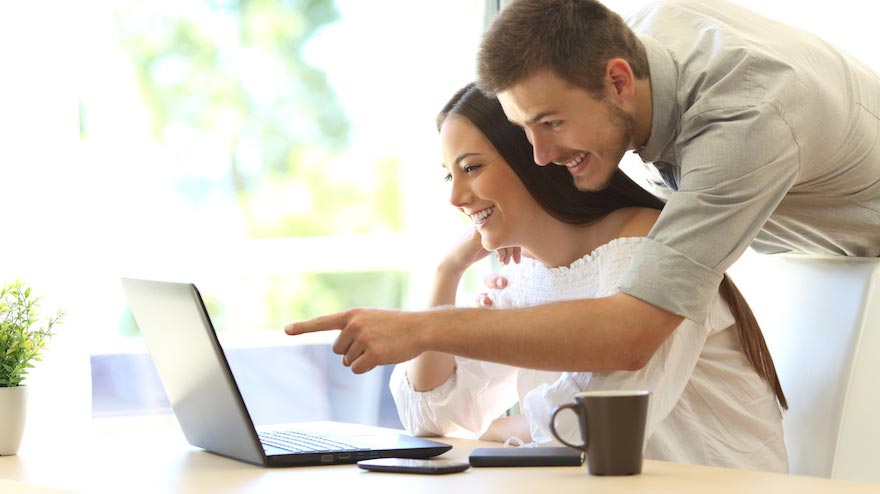 It's no secret that in today's marketing environment, you must have great content on your website, social platforms and listing directories to meet customer expectations and deliver a memorable experience. But what constitutes "great" content, and how do you make existing content better? 
There are probably thousands of tools and apps that can accomplish this, but the DYC team is either personally using the following six, or we think they are interesting enough to try. From virtual home staging to finding the perfect word, these six tools can help make your content shine.
1) Enhance Photos with BoxBrownie
If you listened to Ep. 54: Real Estate Chaos – Close to Home with Mike Lyon, you heard that Mike used only three tools – BoxBrownie, Facebook and Zillow – to sell his personal home in 11 days. 😮 BoxBrownie offers high quality photo editing, virtual staging, floor plan redraws and renders at low prices with fast turnaround times. Have a beautiful photo of an empty living room? BoxBrownie can virtually stage it for you. Have a confusing blueprint from the construction team? They can make it into a marketable floor plan. They can even create "dusk" photos from a day shot, giving your prospects a complete picture of how the home looks any time of day. 

2) Create Video Content with Lumen5
This is a cool app on our radar to try soon. Lumen5 is a video maker that turns text into video marketing content in just a few minutes – no video software experience needed! All you do is submit your link – a blog post, for example – and the app uses artificial intelligence to source relevant stock video, place text on each slide, even highlight important keywords. If the video is not exactly how you imagined it, there are editing tools as easy and drag-and-drop. It's a great way to repurpose existing content.
3) Express Yourself with Related Words
This is a simple tool that comes in clutch if you're writing long-form content, ad copy, or just about anything, really. It's not exactly a thesaurus; rather, it finds words that are associated with a particular word. You know those moments when a word is at the tip of your tongue, or you've written a word that isn't exactly right for the context? Related Words can help.
4) Make Images Come to Life with Wavve
Have you ever seen a "talking picture" on social media? The ones where audio is laid over a still image with an animated waveform? These are called audiograms, and we like to use them when we share podcast episodes – like here, for example. They are essentially videos, and will help grab your audience's attention as they are scrolling through their feeds. If you host a podcast, audiograms can help you promote your episodes. If not, get creative! One idea is to make an audio testimonial using the homebuyer's voice and picture if there's no time for a full-length video.
5) Take & Edit Photos On the Go with Adobe Lightroom for Mobile
This phone or tablet app enables you to take and edit high quality photos wherever you go. With free features such as presets, color mixer, and HDR mode, plus premium features like geometry and selective adjustments, you can take your photos and have them ready to publish before you get back to the office.
6) Create Stand-Out Presentations with Beautiful.AI
This tool helps you to create gorgeous, professional presentation decks using artificial intelligence. Choose a "smart" template based on your idea, start adding content, and the slide design automatically adapts. 🙌 The A.I. also applies best practices for great presentations, so there's no need to spend hours fine-tuning the design. The examples on their website took between 7-15 minutes to create. A definite time-saver!
For more discussion on great home builder content, listen to the Market Proof Marketing episode, Content that Sells, featuring Will Duderstadt.