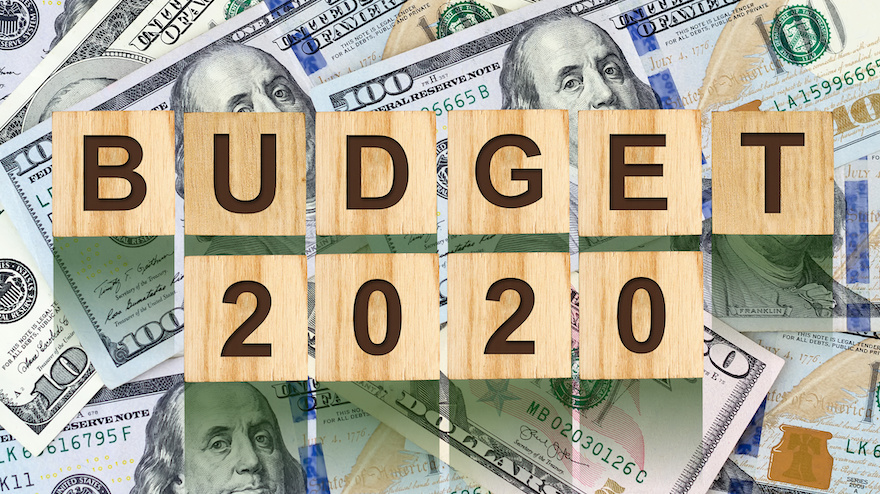 This post is an update to Kevin's article in Professional Builder magazine: The Perfect Marketing Budget for 2017.
Same Budget – Different Spend
The perfect marketing budget for home builders in 2020 hasn't changed much on the surface – the total allocation should still be between .7 and 1.5 percent of projected revenue. The rest, however, is quite different, especially when it comes to digital advertising and content creation.
This year I've taken the extra step of giving you a 2020 Budget Recommendations spreadsheet with several jumping off points to crunch the numbers yourself. All eight scenarios – from the small builder all the way up to the giants in multiple divisions – are only a starting point and not gospel. Finally, please don't try to tell your boss that "Kevin Oakley said we should…" Rather, feel free to take talking points from this article and put them into your own words. I always want you to remain the expert in your organization!
Foundational Budgeting Truths
If you're spending more than 1.5% on marketing, there is significant waste and opportunity for improvement.
If you spend less than .7% on marketing, you are underinvesting in your company, and over time you will leave opportunities for your competitors to overtake you. Your brand, reputation, and customer experience will suffer for it at some point.
50% or more needs to be spent online and split between three categories:

Digital Advertising
Web development/tools
Content

Budgeting for a significant level of professionally created content isn't optional. If you have the money to solve a problem, you don't really have a problem – 95% of builders still have a big content problem.
Please reference my previous Professional Builder article for other general insights if needed. Now we're going to jump into some specifics that we never had the space to put into the magazine.
Digital Advertising
Facebook/Instagram
Facebook and Instagram deserve the largest percentage of your digital spend as long as you are using their A.I. and conversion setup to reduce wasted efforts (see more articles on this topic). Running ads on these platforms does NOT use their A.I. by default – it isn't baked in unless you set it up.
SEM/Paid Search
SEM/Paid search spend should be trending down as your paid social efforts are trending up. Don't forget remarketing using Google Display (which is nearly free since you only pay when someone clicks on it) as well as YouTube remarketing and in-market ads. In-market means Google believes someone is in the market for a home based on their online behavior. Consider going further on your remarketing efforts in 2020 with Pinterest, LinkedIn, and even Twitter (remarketing only!).
Syndication Sites
Syndication sites like Zillow and New Home Source are not to be ignored and, if you follow my budgeting outlines, you should be able to have a significant presence there without feeling pinched anywhere else. Use some dollars from the development bucket if necessary to really take your XML feeds seriously, though. You can no longer ignore the need to get your arms around them. If syndication is failing you it is usually the fault of either poor XML or a lack of compelling content (notice I didn't just say photos – content is more than just photos!).
Online Lead Quality
A quick word on the quality of leads from digital marketing channels: as long as the advertising source is sending traffic to your website first – NOT using a separate lead form or landing page – then the quality of leads that come through are all essentially the same. WHAT DID HE SAY?!? Yep. The same! The reason is that ads alone can be deceiving or lack full context for the shopper; however, if a visitor comes to your website and spends time viewing multiple pages of information before choosing to become a lead, that means it is a quality lead. While their time frame or amount of nurturing may be different, their intention is not – they are all shopping for a home.
If you use Facebook lead ads where the user fills out a form on Facebook directly (Google has rolled these out too – beware!) then all bets are off and you should be scrutinizing quality very closely. At DYC, we don't recommend using lead ads like this for any reason.
Online Development
Don't build a website and let it stay essentially untouched for years on end. Plan to maintain it and upgrade it continuously. Find an excellent partner with high levels of customer service and empathy for what it means to be a home builder – it is worth the investment! As a marketer today, many things can be under your direct control – except (for most) the code on your site. When a new site or larger upgrade is necessary, you will often need to adjust your spend on content and advertising or you can pull from your reserve amounts (in grey on the 2020 Budget Recommendations spreadsheet near the bottom).
Content
Often people will have separate budget line items for renderings, floor plans, etc. I group all that under the 50+ percent online bucket because that is where your content will mostly be consumed. Videos, photography, copywriting, podcasting, 3D tours, renderings, etc. – it all goes here. Make 2020 the year you stop trying to tackle content yourself. Find professional partners that can lighten your burden. Discovering the right ones is time consuming and painful, but getting them in place will unlock the next level of results for your marketing and your company's revenue.
Additional Marketing Buckets
I wanted to cover the previous three buckets in more depth as they bring up the most questions/excuses from everyone, but here's a quick outline of the other sections:
Signage: All exterior signage needs (including billboards – if you must) plus interior sales office signage should go here. It can be helpful to determine your one-time startup cost per location and add that as a variable to your base budget so everyone knows what is needed to open up a new dot on the map.
Print: If you must use it this covers all newspaper, magazine, or direct mail needs.
Collateral: While many builders are moving to all digital collateral there will always be some amount that needs printed – even if only in small quantities. Remember though, most ends up in the trash after initial use.
Events: Your product is best experienced; that is why we have model homes to begin with! Hold multiple smaller scale events throughout the year (or VIP Preview events from Presale Without Fail). If your budget allows, doing a larger event for branding purposes can also be a good idea.
Gifts: Improve your customers' experience and give them another reason to talk about you with their friends, family, and co-workers. Don't be a cheapskate – paper towels and pizza isn't the idea here – neither is a plunger or tool set to lower maintenance calls.
Tracking/Research: This where you should code costs associated with tracking marketing effectiveness (CallRail for phone tracking or Dor units to capture walk-in traffic, etc.) or true market research efforts (surveys, focus groups, website user testing). Don't get into the habit of working off of your instincts alone, no matter how well they may have served you before.
Mass Media: Radio and television (perhaps more billboards, if you must) go here, but unless your budget far exceeds $1M per year this is a place you shouldn't experiment in.
Innovation: This is your "freedom to fail" money. Try something new. Stretch yourself, your department, or your company by experimenting. The cap protects you from going all-in on a folly, and also pushes the most conservative marketers to fail forward.
By making adjustments within your existing marketing budget to meet consumer's online expectations, you'll be well positioned to spread awareness, fill your pipeline, and sell homes profitably in 2020 – all without spending an extra dollar.
For a guide to creating your own 2020 marketing budget, be sure to download the 2020 Budget Recommendations spreadsheet.