Market Proof Marketing
The home of the podcast from the marketing minds at Do You Convert – Kevin Oakley & Andrew Peek. The latest new home marketing news, and what it means for home builders and developers. Browse full episodes, show notes, and more below. Have a question? Email it to show@doyouconvert.com or leave a message at 404-369-2595 and we'll tackle it on an upcoming episode.
Stay up-to-date and subscribe on Apple Podcasts, Spotify, Google Play, SoundCloud, or Stitcher.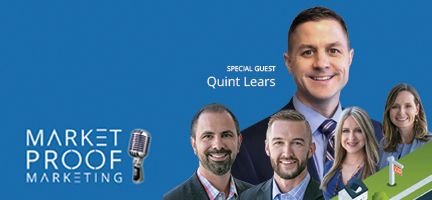 Kevin's away so Andrew, Jackie and Becca take over the podcast! This week we speak with Quint Lears, the mastermind behind NewHomeSales.com and RELENTLESS: The New Home Sales Documentary, which has been viewed more than 33 thousand times on YouTube. We learn why and how he got started making...
Market Proof Marketing Podcast
If you are looking for the latest new home marketing insights this is the place to find them. Each week Kevin Oakley & Andrew Peek will break down the headlines and let you know how they effect home builders and developers. Looking for even more? Check out our hundreds of blog posts, articles, videos, and more.