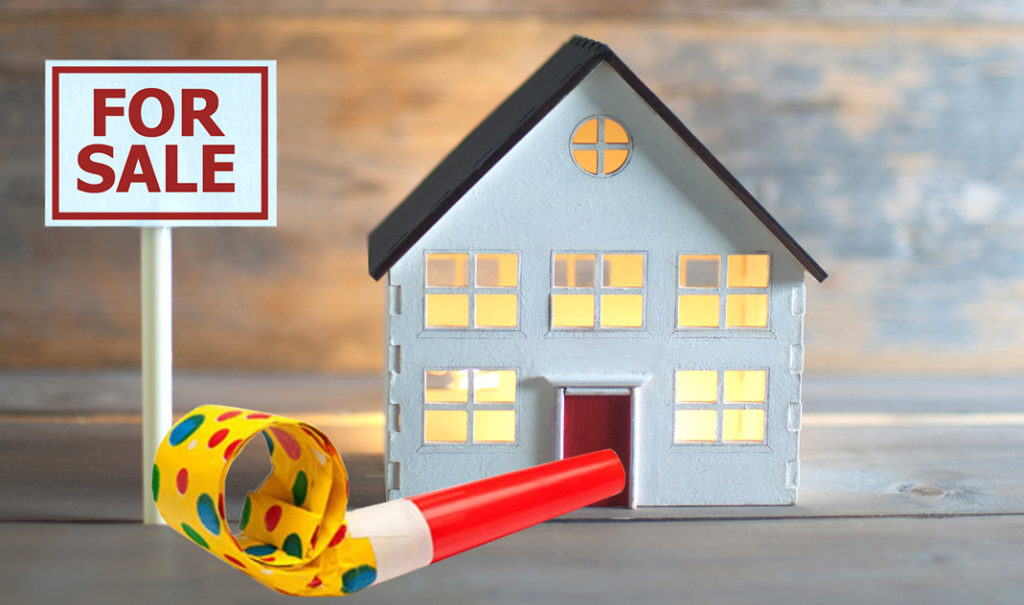 I recently had the privilege of visiting one our amazing builder partners, during my visit we decided to analyze an inventory home that was approaching it's 2nd birthday. For context, this builder builds beautiful homes in great locations across the most "in demand" price ranges, so this home was certainly an outlier.
So what was it about this home that was causing it not to sell? Let's find out.
We frequently use "The 5 P's of Marketing" to troubleshoot a slow communities, markets or inventory homes. It's a very simple 5 step outline that provides a framework to troubleshoot a problem market, community or homes. It's is very useful to reduce opinions, assumptions and to be able to stick mostly to the facts. It is also important to go in order from 1 to 5 and not 100% necessary to go through all 5 "P's" if you are able to fix the issue.
Promotion
Price
Product
People
Place
1st P: Promotion – Are we getting enough traffic to the website?
The first step was to make sure this home had plenty of traffic (or promotion) to sell. Below is a screenshot from Google Analytics showing the number of pageviews in 2018. So far 1,442 unique pageviews! Applying a (low) 1% conversion rate to this would result around 14 leads, more than enough to sell this home, but the home hasn't sold..
Steps:
Log into Google Analytics then click Behavior -> Site Content -> All Pages.
Then use the search box on the right side to search for something unique in the URL that will bring up the market, community or home you are analyzing.
Promotion is not the issue.

2nd P: Price – Is the price competitive to be a consideration for the buyer?
Next step is price. This builder sells homes in this price range all day, every day. However, this home has had previous price reductions and it was still for sale. On paper – this home should have been sold already.
At the current price, we did find that newer homes were more attractive and seemed like it could be a better buy. The home at this point was $259K.
Price might be an issue.
3rd P: Product – Is the product/floor-plan/community comparable against your competition?
Now this is where things got really interesting. We loaded up the most popular home searching website (Zillow) and searched for homes actively for sale that would be comparable. We chose a smaller search radius and adjusted the square foot, bedrooms & bathrooms. It is important to replicate what real buyers will do, take into account all of the decisions real buyers would take when searching.
WE FOUND THE ISSUE!
This home was listed for sale in late 2017, which means it was started in early/mid 2017 and possibly designed in late 2016 or early 2017. When shopping on Zillow in this price range, buyers are shown brand new homes from 2018, along with renderings of new floor-plans and exciting new elevations. These homes appeared larger (for the same price), had newer kitchens and floor-plans, etc.
This home simply could NOT compete with the elevations and new designs.
Product AND Price were the issue.
The Truth of Relativity
We have to remember that our buyers do not make a decision without other choices. All decisions we make are relative. This "relative decision" making process is something we do constantly. Which road do we drive to the office, what to have for lunch, what playlist to listen to – our choices the entire day are mostly relative.
Dr. Dan Ariely explains this better than I ever could in his book – PREDICTABILITY IRRATIONAL. This book is on Kevin's "must read" book list, you better go buy it!
The image below demonstrates the relative decision making we do.
Question: Which dark circle is bigger?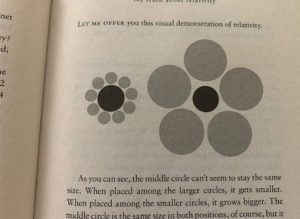 They're the same size! This visualization shows the effect that other homes for sale can have on the perception of the home we want to sell!
So…did the home sell?
You bet it did! A picture is worth 1,000 words right? The price was lowered ~3% and sold about 7 days later!
Resources