It's Monday morning at 9:45.
You are already on your second cup of coffee when you (soon regretfully) check your email. The subject line reads… "Need New Report On Our Ads – Before Meeting in 20 min)
Awesome – another unscheduled report to create for your well-meaning but technologically illiterate manager to let him or her know how ALL of the ads are doing. This wouldn't be a big deal  if you were only advertising with one source, but as a builder you have Google, Remarketing, Facebook, Syndication, Display, Email at the minimum to provide a "quick" update on. If you are like most home builder's you haven't yet created a single place to pull this information quickly and easily.
Well there is one.
Really?
Yes, and you already have it…
This request could be quickly answered with a screenshot of your Google Analytics Channel Groupings – IF you have them customized to capture all of your advertising channels.
Chances are – you don't. In fact, the vast majority of the marketing world does not utilize this time saving feature. Today, I'm going to show you how to make the adjustments necessary to simplify your world.
What are Google Analytics Channels?
Think of Channels as folders you can put multiple traffic sources into and summarize the results. The default channels do a good job of providing a starting point for most businesses, but these really need to customized to fit the standard "Home Builder" marketing strategies.
(Image below is of the Default Channel Groupings in Google Analytics)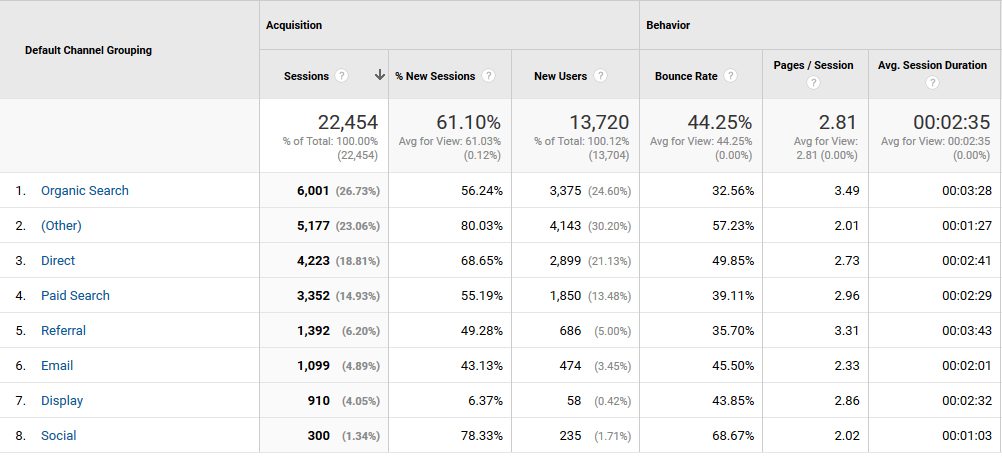 Custom Channel Groupings for Home Builders
What is missing from the Default Channel Groupings?
Syndication sites?
Paid Social ads such as Facebook?
Remarketing?
Those are certainly important and a large part of your marketing budget! Now imagine if those advertising channels were right there…you'd be able to quickly see how each advertising channel is performing by simply logging into Google Analytics.
(View the image below to see what Custom Channel Groups look like when completely setup.)

Back to the email you received this morning at 9:45…
Imagine if you had the Custom Channels set up in Google Analytics, you can simply screenshot this and reply. Nice!
Want to setup Custom Channels in Analytics? I've put together the video below to walk you through it step-by-step in right around 2 minutes!