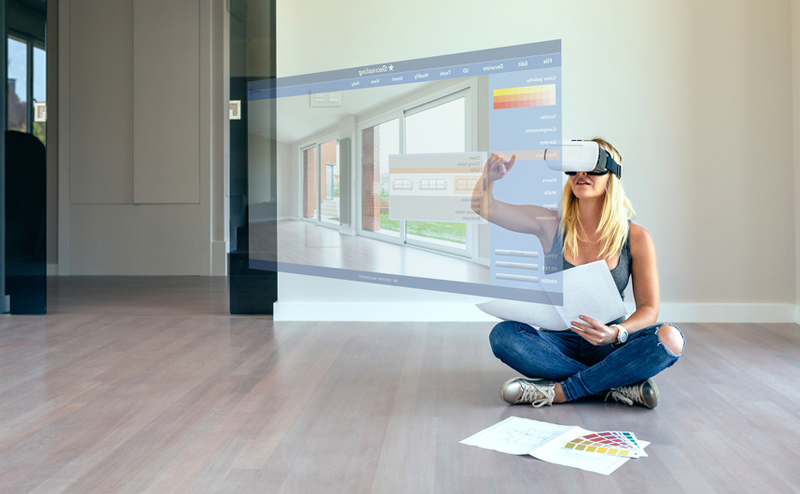 I think we all know by now that most homebuyers can't visualize what we're promising to build them. Virtual Reality headsets give us the ability to have our buyers experience what it is like to be in our homes when they don't really exist. Plus, it solves all sorts of logistical problems associated with finding a finished home that has not closed for the buyer to tour! VR seems like a winning solution, so I decided to test for myself and share the experiences with you!
2D in Virtual Reality (VR)-is there a point?
I put on the Oculus GO (VR Viewer) and headed to a homebuilder's site, where I clicked on a 2D home tour. I have to admit, I felt like I was standing in the room and walking through the spaces even though it was on a curved 2D screen in the viewer and I was sitting in my office chair in real life.
As a bonus, if your video has cool camera work, you'll feel like a ninja homebuyer. A word of caution though, don't watch any tour recorded by a sales agent with their cell phones or you may get sea sick☺.  The 2D video I watched had fantastic camera work, but it still lacked the total immersion of a 3D environment that I was seeking.
Will It Matterport?
I downloaded the Matterport app from the home menu in the Oculus, but unfortunately, it isn't far enough developed to allow for the full immersion of a builder's tour. Instead, it offers a curated selection of architectural masterpieces. (The experience is still very cool, but I was seeking a more practical test).
Next, I visited a builder's website and opened their Matterport Tour. I had difficulty getting the full immersion to work from the builder's website in the web interface of the Oculus Go via the VR specific link. Don't worry – I still experienced it on the HUGE 2D "movie" screen on the Oculus display. Then I noticed the goggles icon on the bottom right-hand side of the 2D tour. I clicked it and was brought into the full 3D immersive version. They make it look like you need to download the Matterport VR app, but in reality, all you need to do is click the goggles. Two choices pop up, open in the Matterport app or click the cardboard VR goggles icon. Accessing the app this way was slow, but it worked and so did the cardboard goggles icon.
At first, I thought the 2D was better than just the video even though it was an odd mixture of 2D & 3D, but then, I found myself always looking at the floor and weird angles of the room and feeling as if I had one too many craft brews. It was mostly user error (bad driving) because you control the experience with your wand and it's really sensitive. I definitely would have flunked out of Hogwarts. When I switched into the immersive 3D version, all the wonkiness went away, and it was very stable. You still use the wand to change views, but it is much less sensitive. I was no longer looking at weird angles. It was easy to flow between rooms and it made me feel like I was in the actual home. I could explore the whole house and walk out on the back deck to survey the back yard!
Third Time Is The Charm
Finally, I visited the Rendering House website because I knew they would have a tour compatible with the Oculus Go. They have two sample 360 VR Home tours. Click the headset icon when you pull up the tour, and you'll find yourself standing in the home. In real life, make sure you're sitting in your office chair away from your desk, so you have plenty of room to twirl around.
The whole experience is fantastic and easier to use than the Matterport tour. You select where to move by hovering the plus sign in your viewer over the arrow to switch to a new vantage point. If you don't have current Matterport content and/or are marketing brand new plan this is a great option. I felt like I was home standing at the kitchen counter, hanging out in the living room, and walking to the front door.
Final thoughts
We all want to sell more homes and shorten the time it takes a buyer to contract by helping the buyer feel confident about visualizing what you can build for them. VR solves all these issues and gives them a very special experiences in the process. Hopefully Matterport will improve accessibility to the 3D immersive app so homebuyers can access assets with a little less confusion. Once you get in there it is fantastic.  If you have Matterport tours already, it is an easy transition to VR. Rendering House 360 tours provide an excellent experience, so if I were looking into VR and had no Matterport content I would start there, especially for new plans.
Next time we will explore the answer to the question "Can every buyer use VR?"