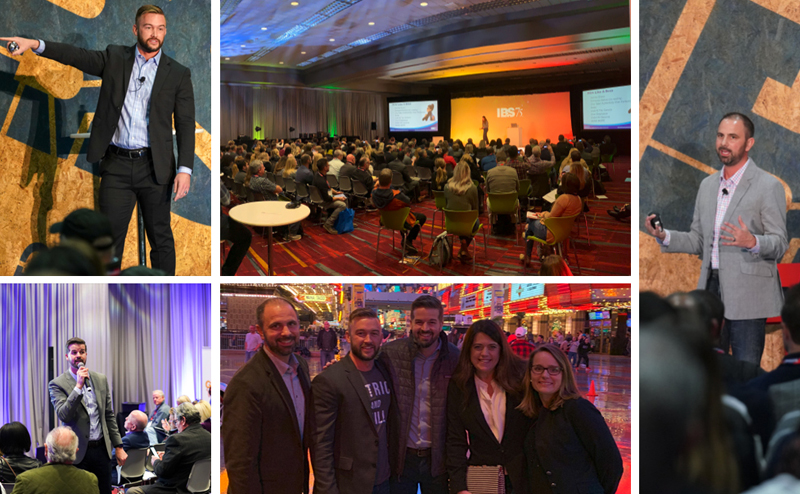 The International Builders' Show had the largest show in a decade! There were so many education sessions & booths it was hard not to miss something, so we thought we would share a few of our favorites with you.
Mike Lyon
Oh man – this year was electric! I loved all the great education and the energy from the attendees. Of course, seeing all of our industry partners and friends just makes me happy. I was able to meet and connect with so many new faces as well. This was by far the busiest Builders' Show I have been to in 13 years. The education sessions were packed, halls were packed, Sales Central was packed and the show floor was packed.
A highlight for us was when Astrid De Lima from The Neighborhoods at EYA took home the Gold for Online Sales Counselor of the year at The Nationals. https://www.nahb.org/en/news-and-publications/press-releases/2019/02/nahb-names-the-nationals-gold-award-winners.aspx
One of my favorite sessions was "Making Your Corporate Culture the Voice of Your Brand" Mollie Elkman did a great job of showing how your corporate culture isn't just about "the feels" but it also makes financial sense.
I am already excited about 2020!
Jen Barkan
Snow in Vegas?!!! I always say, IBS feels like summer camp!  Except this year, it was like winter camp! It's a time to reconnect with friends, clients, and meet new people.  Shaking hands with industry peers that you only get to see once a year. It truly is my favorite part of coming to the Builders' show.
The summer camp part was the same, but the buzz was different.  Last year as I walked through Sales Central and the hallways, I heard chatter about AI and chatbots.  This year the buzz talk was all about personalization and customer experience. How to set yourself apart from your competition and authenticity over perfection.  In fact, this was the theme from several sessions I attended this year, but I have to say the highlight for me was the Super Sales Rally. The energy and insight from Jeff Shore, Meredith Oliver, and our very own, Mike Lyon, was impactful.  I was already referencing Jeff's wisdom later that same day in my session!
Lastly, a bit of advice for anyone thinking of attending next year.  Stay at The Wynn (amazing!), wear comfortable shoes, if you lose your phone in the bathroom (true story) – the lost and found is far away in the North, chicken feet are gross, and go to Joe Vicaro's Steakhouse in old Las Vegas for the Caesar salad!
Kevin Oakley
This year's show really continued a theme that I first really felt last year. Home builders are finally EXCITED about technology and the changes it will bring. Instead of questions being asked about if something new is "really necessary" or asking for proof that it works – now they are all about how they can implement it tomorrow (or sooner!). It's a refreshing change and made a lot of my hallway conversations with people a lot more fun. The future is full of amazing opportunities for those that keep pushing forward.
I really enjoyed Andrew Garberson's talk on Google Data Studio and how it should be implemented by our industry. It is certainly something that should be part of every marketer's toolkit [get a quick overview of how it works here]. He had way better jokes and a refreshing viewpoint on it though which was no surprise. It was also interesting to see how many sessions this year covered the topic of video. From creating compelling stories, editing, and sharing it with the world – there was lots to listen to on this important topic too! Including from our own Jen Barkan on the use of video as a sales tool.
Finally, it was SO much fun to host a breakfast meet-up with my friend Will Duderstadt for those driven enough to show up at 6:30am on day 3 of the show. 14 of the best people I know took advantage of being in the same city at the same time to share war stories from the front lines over maple syrup. Bonus points – almost no one ordered waffles.
Becca Thomas
WOW! There were so many amazing sessions. Having never been to a builder's show before, I got a little lost the first day. If you've never been you must go next year!  My favorite non-DYC talks were Andrew Garberson's talk on data studio, but since Kevin already covered that one, I'll go with my other favorite non-DYC talk. "3 simple numbers to measure the financial success of your business" was given by Shawn Van Dyke, and while it wasn't directly related to marketing it was really helpful to see how management / leadership thinks. He shared with builders some KPI's he uses to help measure the efficiency of a builder and how to break the KPI's down into manageable weekly goals for the organization.
You may be asking yourself why is this helpful to me as a marketer & the answer is, you need to know how leadership thinks about financials so when you want to make a strategy change you can communicate in a manner that makes sense to your leadership. If you can project investment and show return on investment you will never have trouble finding funds for marketing that increases sales. They don't need to know the magic tricks behind the attribution, just the end result.  PS. Kevin and Andrew shared some more of those Marketing Magic tricks this week!
Andrew Peek
What a great Builders' Show! This was the 3rd show for me, but first time in Las Vegas. Having the Tech Bytes room and Sales Central so close was perfect, almost a guarantee to run into someone while walking the hallways between the two rooms. It still amazes me how connected we all are in sales & marketing.
I enjoyed quite a few sessions this year, but a few that stuck out to me where – "Let Your Data Lead the Way" with Chris Hartland from Trendmaker Homes, Lucy Wohltman from Zillow and Dave Betcher from Lasso CRM. Understanding the number of touchpoints buyers make before becoming a lead, as well as once they start the sales process can never be underestimated. Having analytics and a CRM in place to help analyze this process is crucial in making the most out of your leads and marketing budget. The second session Andrew Garberson's "Building Enterprise Marketing Reports with a Startup-Sized Budget". The big takeaway for me is that all marketers really just need to "jump in and figure it out". Data Studio reports can appear to be complicated to set up, but give yourself some time to learn the interface, how to connect the data and create a report. I believe that you can never have too much confidence in being able to perform the "nerdier" tasks that can make a difference. To build that confidence…just jump in!
If you were not able to head to Las Vegas for this International Builders' Show or missed some education sessions, and want to hear more about the sessions given by Mike Lyon, Jen Barkan, Kevin Oakley & Andrew Peek check out this week's Market Proof Marketing Podcast. We hope to see you there next year!!!!