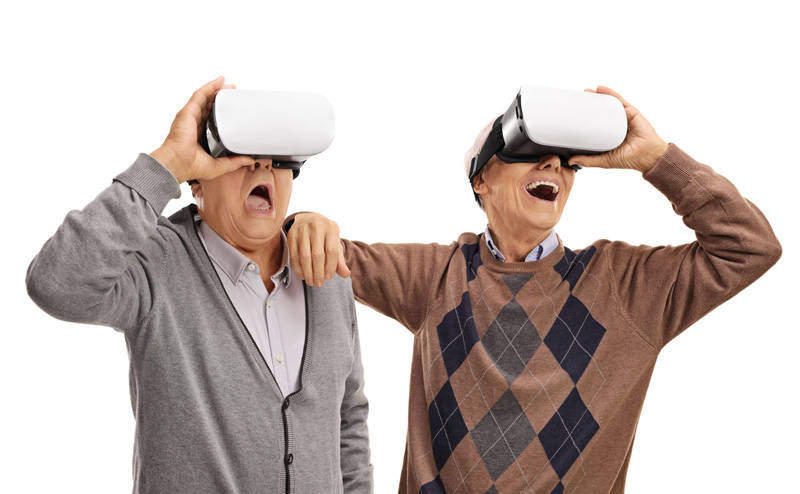 We marketers in the homebuilding industry love VR because it solves a lot of problems for us. Rather than building a real-life model of every floorplan we offer, we can instead use VR to show buyers our homes. It's a fast and affordable option for us.While saving money and condensing the timeline from initial interest to contract is appealing, relying on this technology is only helpful if people are willing to participate in it.
I was recently talking to a baby boomer about how cool VR is and how it can revolutionize our industry. His response was that VR might be too high tech for him and his peers. I don't agree; using VR today is as easy as slipping on a headset and looking around. For homebuyers, all we need to do is set up the VR contentand let them participate. To test this, I invited some baby boomers to try it out. I used the same Rendering House 360 tourfrom a previous post, consisting of the great room, kitchen and formal dining room to keep it simple.
The Test Subjects
The participantshad a variety of technology skill levels. Some werestillmuddling through emails and barely mastering the art of texting,others wereretired IT professionals or first adopter's, comfortable and familiar with most forms of technology. Since, boomers have a wide range of comfort levels with technology I wanted to see how each would react to VR.
Know Your Audience
All the baby boomers needed a little extra handholding during the test. When the tour was queued up and they were given the OculusGo, they could navigate it just fine. But if the screen popped out of the tour, they were unable to get back to it without help.  So
I queued up the VR headset to the Rendering House sample VR 360 tour, and each participant put on the OculusGo. Some were skeptical while others were totally excitedto begin!
Safety First
It was hard to get them to understand they needed to stand in place and just rotate in asmallcircle. They instinctively wanted to walk around the virtualroom with the Oculus on, forgetting there was a different room in real lifewith furniture. In the interest of avoiding injury, I would suggest having an office chair that can rotate the full 360-degrees in your sales center. Just tell them it only works if you're sitting in the chair!
Navigating the Rooms
While in the tour,you move around bylining up the + sign with the arrow to change the vantage point. Thiswas easy for the boomers more comfortablewith technology,while the boomers that were less comfortable just needed some gentleguidance. They needed to be reminded to hover the + sign over the arrowuntil the circle that appears around the arrow disappears again and thenew vantage point popsup.
Technical Difficulties to Consider
Lastly, a couple of them complainedthatthe screen was blurry. It tooka minute to figure out that these participants normally wear reader-glasses and hadn't used them for their first tour. On the readers went and the blurry screen issues disappeared.
Results
Every boomer was willing to try VR and had a positive experience. Each one took the mask off after the tour and said they wanted to explore more of the home. They all said that it gave them a better idea of what a home would feel like inside than simply looking at a 2D floor plan. The one person who thought that maybe the technology was beyond them loved the experience. He even started talking about how cool it would be if he could pick the finishes, and then tour the home with his specific selections. In other words, in the absence of a completed real-life example, VR offers an excellent alternative. After seeing the VR tour, they felt more comfortable moving forward than if they only had seen the slip sheet.
Recommendations
VR is a fast-growing technology that has made our lives as marketers easier. It's hard for people to imaginewhat a home will look like from floor plans and some photos, no matter how many they see. Virtual tours regardless of who makes them for you, let us show buyers our homes without needing to build hundreds of samples. By using VR, we can give our buyers a mesmerizing and realistic tour experience. And with just a little bit of help (and a setup that avoids injury!) even the most skeptical baby boomer would agree that VR is incredibly helpful in this process. So yes, I say that baby boomers can and WILL VR.