Oops! "404 Page Not Found." We're sorry, the page you were looking for was not found.
…Ouch.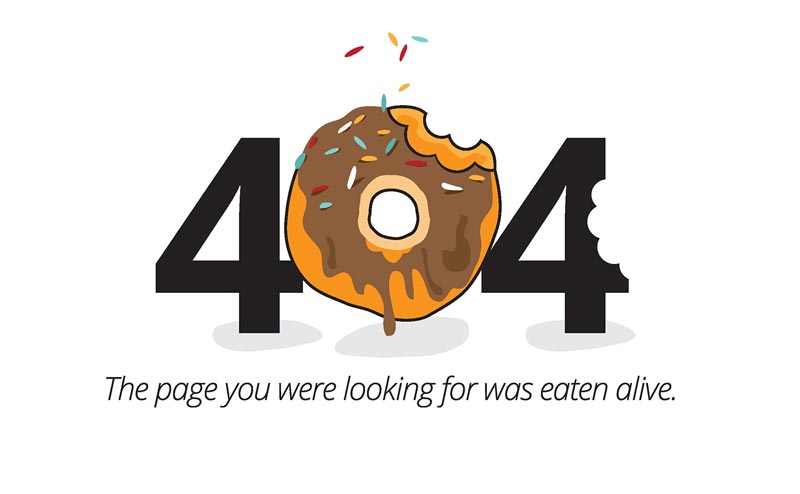 It's always painful to find these on your website. Even worse is when you don't know about a broken page until a potential buyer or your boss/owner tells you about it.
You've worked hard to bring visitors to your website, and hope to convert them. Hitting 404 Errors can turn that visitor away and lose you a potential sale, so don't take this problem lightly.
Let's get this fixed!
You definitely want to find and resolve any 404 errors as quickly as possible. To do this, you'll need to identify and fix broken pages on your website, identify redirects, and more.
Before diving into that, let's first take a quick refresher on 404 errors and what causes them:
What is a 404 Page Not Found Error?
This is the error your website server displays when a visitor tries to access a page on your site that can't be found. Sometimes the error is the user's fault – they typed in the wrong information or tried to find something that never existed. Other times, the web page moved, was deactivated, or something else. In these cases, you need to take action to fix the problem.
What Causes a 404 Page Not Found Error?
There are actually many situations that will prompt this error message. Maybe the link is broken, the page has been removed, or maybe it's a user error. The list below includes the most common reasons for homebuilder's websites to display the dreaded "404 Page Not Found" error:
Community Deactivated
URL Change
Inventory Home is Sold
Submarket is Inactive
Incorrect URL is typed in (user error)
Preventing These Errors
In an ideal world, visitors would only see the "404 Page Not Found" error for reason #5 – by typing in the wrong URL. But that's not always the case. Luckily, you can easily prevent the first 4 scenarios on our list. For each of these scenarios, I've included my thoughts on how to prevent these errors to reduce the possibility of your visitors hitting dead ends on your website:
Community Deactivated: The simplest solution here is to redirect to a Submarket Page that the community was built in. Consider this to be a quick fix to this problem. A more elegant solution would be to offer alternative communities in a similar price range and proximity.
URL Change: Hopefully you don't change URLS too often! But if it does happen – say, for SEO purposes to boost organic traffic – then be sure to place in 301 Redirects to get visitors to where they need to go.
Inventory Home is Sold: When this happens, redirect the visitor to either the sold inventory home's community or the submarket page.
Submarket is Inactive: Depending on the long-term plans for this submarket, it would be much better to keep the page active. Simply provide a message like: "We are currently sold out of homes in Happy Falls, USA, please view our other close by communities." We highly recommend this so you can keep your hard-earned Google Rankings in place!
Finding 404 Pages – The Smart Way
Finding 404 Errors manually can be very difficult and time-consuming. So here's a smarter way to monitor and track 404 Errors using Google Analytics:
Step 1: The Google Analytics tag MUST be on the "404 Page Not Found" error page. Talk with your web developer about this if you have any questions or aren't sure if it's there.
Step 2: Create a Custom Report in Google Analytics. Instructions below.
First, log into Google Analytics and click "Custom Reports" under the Customization Menu.
Then click "+New Custom Report".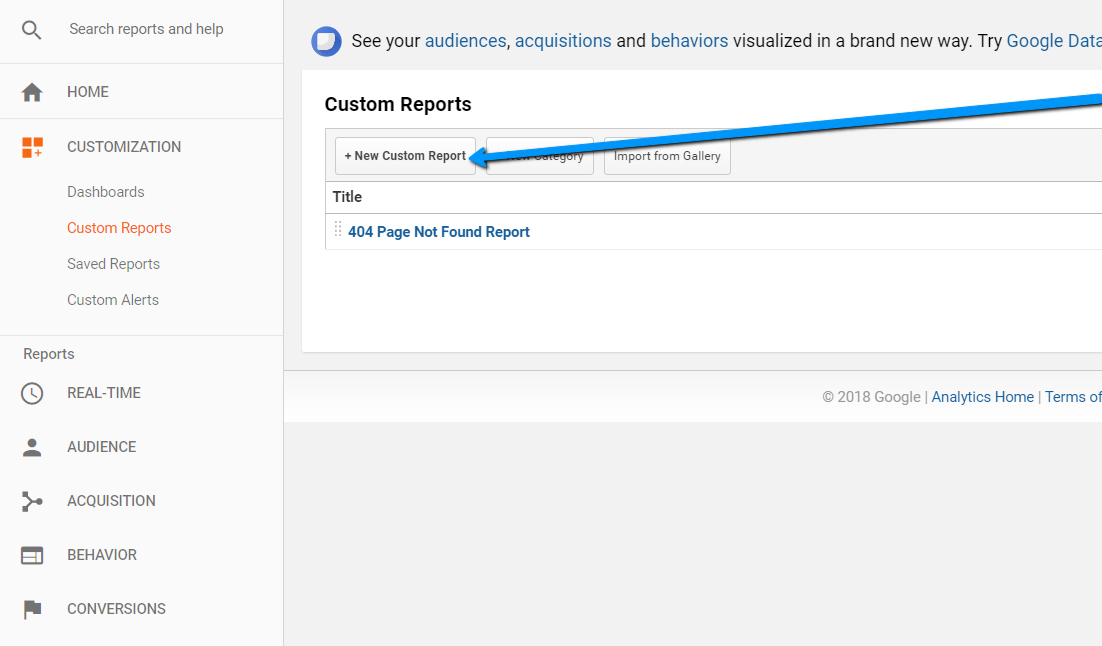 Name the report "Page Not Found" or something similar. Then add the following metrics & dimensions found in the image.
For the filter section, you'll need to know the name of the "Page Title" of your 404 error page. You can find this by purposely going to a page on your website that does not exist and then viewing the Page Title. Fortunately, Google Analytics tracks this and will auto-fill the text-box in the filter once you start typing!.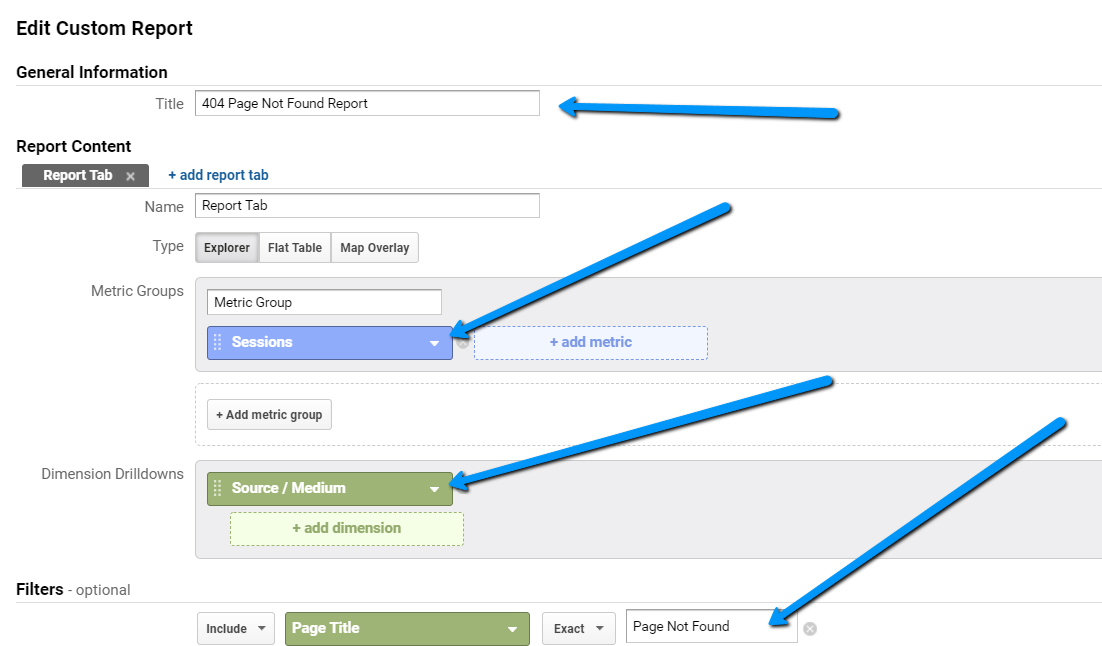 Now that your report is made you can view it by clicking the report name in the "Custom Reports" tab where you started. The last step is to add a "secondary dimension" with the "Destination Page". A secondary dimension is Google's way of saying an additional column.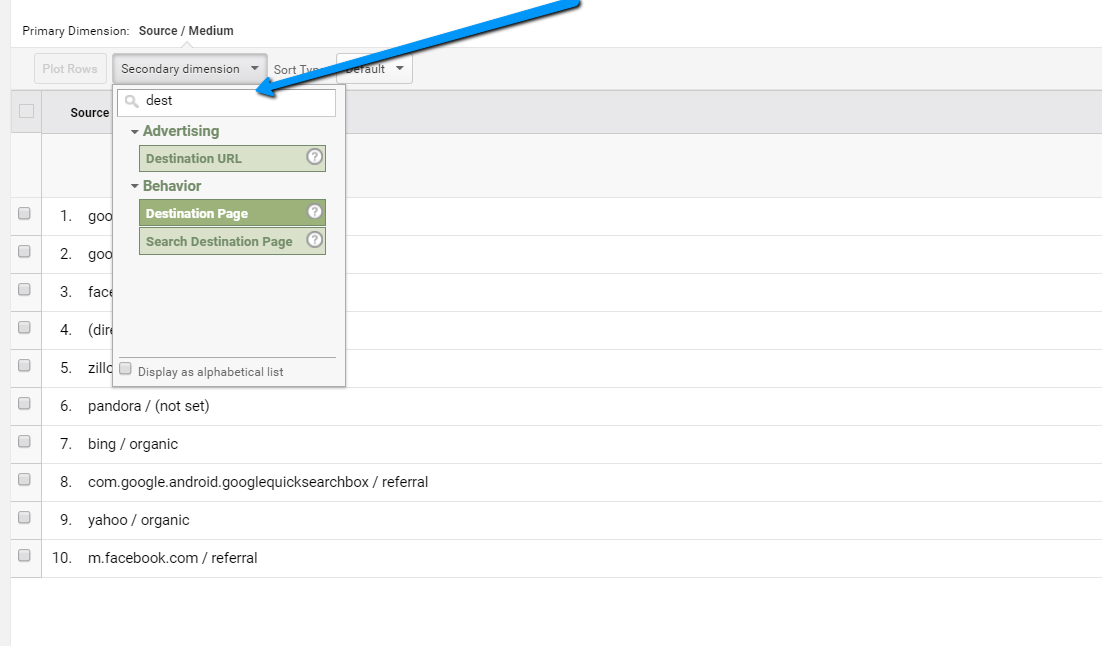 Awesome! Now you have the traffic source AND the page the visitors were attempting to get to!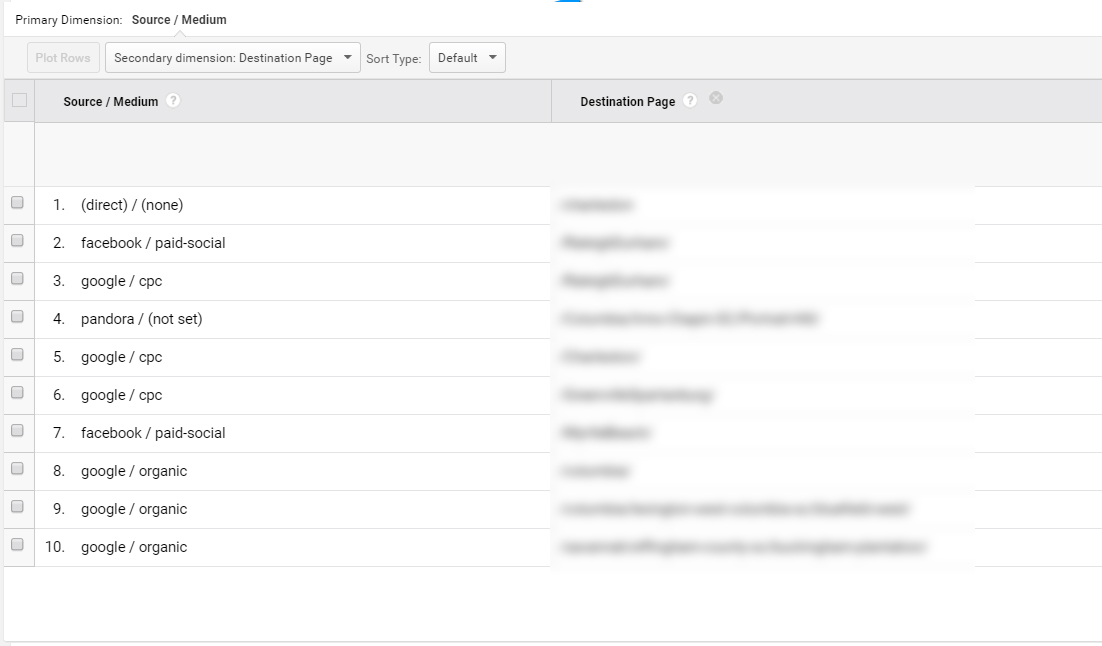 Step 3: Set your calendar with a reminder to view this report at least once a month. Include a link to the report in your notification to make it even easier to access. That way, you'll have no excuse not to click it and check the report.
Step 4: Fix any 404 Errors that you can as soon as possible. You'll always have people typing in the wrong URLs – this can't be prevented – so don't worry about that. However, if visitors are consistently typing the wrong URL, make sure the actual URL is spelled correctly and makes sense.
Step 5: Sit back and relax – your job is done! KIDDING, we're marketers, our job is never finished!
Remember that it's best to take a proactive approach to finding and fixing these broken pages. Routinely check on your 404 Page Not Found report and identify the cause so you can resolve the issue. Ideally you will not have too many of these, but over time small changes to your site can add up to a significant amount of lost opportunities for new leads & sales.