Is home builder marketing on Facebook in peril? If you listen to a lot of the noise online over the past few days you may be more than a little nervous. The answer is that you are safe – as long as you only create engaging posts & ads!
Last week (January 11th), Mark Zuckerburg posted this on his Facebook profile: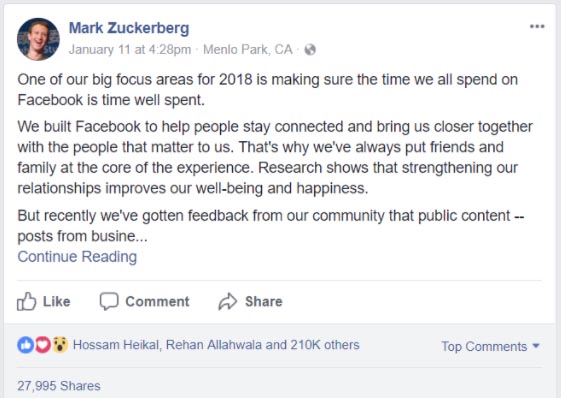 As expected with any algorithm update there are many opinions on how this will impact businesses that advertise with Facebook. Should we be worried? Is Facebook the next Myspace? What should we use now? Sounds terrifying, right?
Here is my take on how this will impact home builders that use Facebook to advertise and generate leads to sell homes. Disguised in the carefully crafted post by Zuckerberg is two problems that Facebook is looking to solve.
How do we keep users happy?
How do we keep Ad revenue growing?
Problem #1 – How does Facebook keep users happy?
Just like any smart business would do, Facebook continually performs tests to improve the experience of their product. A/B testing is always occuring whether Facebook publicizes these tests or not. Based on Zuckerberg's post, their team discovered users are happier engaging with content from friends and family instead of lower quality content created by businesses, "people" and brands. Even if these posts had a massive amount of likes, comments & shares – think about all of those viral videos this year that you know you saw….but can't remember what they were.
Part of their update is to suppress the lower quality content and to increase the quantity of posts from your friends and family (sounds good to me!). For builders who depend on Organic Posting, your posts will likely have decreased reach as this algorithm update is rolled out. Although the better question is why are you not advertising (with a healthy budget) on Facebook? For most pages – the reach of an organic post is ONLY 2-5% of those who like your page!
What Can You Do?
Create high quality ENGAGING content. No more recipes or sharing loosely related posts on your Facebook Page. Test different types of content, images, & concepts to see what has the most engagement.
Open Your Wallet – you will need to spend money with Facebook to reach Facebook users who are looking to buy a home, there is absolutely no way around this.
---
Problem #2 – How does Facebook keep ad revenue growing?
In Q3 of 2017 Facebook had ~10 BILLION dollars in Ad Revenue. That's a "B" for Billion. Q4 earnings are announced January 31st.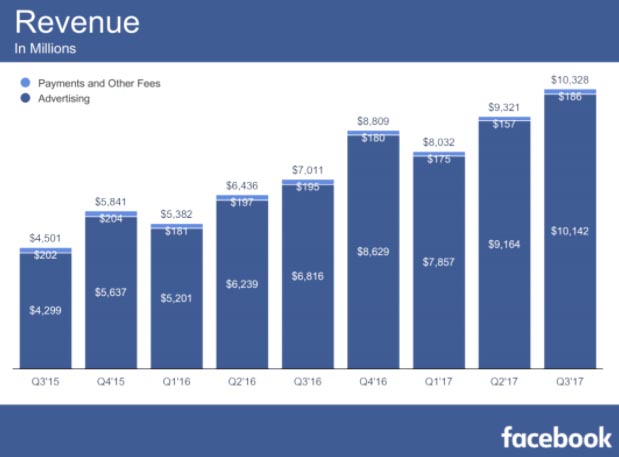 There are 2 important words to learn, Ad Load & Inventory
Ad Load is the ratio between ads and posts from friends and family. These are the posts that Facebook wants you to see more of.
Inventory is the total amount of space for Ads to sell.
In July of 2017 Facebook announced that they were running out of Inventory on the news feed for mobile & desktop devices! Uh-oh – that's a problem. How can they increase revenue if they are out of "inventory" to sell?
Facebook can do a few things to keep their revenue growing
Increase the cost of advertising.
Adjust the Ad Load ratio to allow more ads on Facebook while DECREASING the number of lower quality posts.
Increase the usage of Facebook by keeping you happier through a better user experience, this should also result in new users joining Facebook.
Here is what I expect will happen
Advertising costs will continue to increase, this was going to happening even without an Algorithm change. Businesses are still transitioning their ad budgets to Digital and as we all learned in Economics 101, increased demand equals an increase in price. The big question is – how MUCH will ad costs increase? Do we need to double our Facebook budget for the same results as 2017?
No, you shouldn't as long as you are doing a great job on your targeting & ads. A very quick method to determine this is to view the Relevance Score that facebook provides on all Ads. The relevance score is on a scale of 1-10 on how well your Ad matches the targeting you set. We like to see at least 7 and ideally a 9 or 10.
What You Should Do
Use your BEST images. Edit them in photoshop – test different layouts. It's best to not use text over your image – save that for the copy in the ad.
Actively engage with comments on your Ads. So important – for Facebook and as a chance to engage with those who are likely to convert into a buyer.
Updates and changes to algorithms on Google or Facebook always cause a lot of fear in the marketing world. Fear can be a good motivator to take action, but choosing your course of action based out of fear is probably not a good idea. As always let us know if you have any additional questions and we'll do our very best to get you an answer.